---
Me-163 Komet
30. 9. 2006
Už v roku 1939 na základni v Peenemunde vzlietlo lietadlo podobné súčasnému B-2 (nemal ,,chvost"). V rokoch 1940-41 z neho vznikol Me 163A.Bol poháňaný motorom Walther R II-203 s výkonom 750 kp a Me 163 s ním dosahoval až 950 km/h, no pri tejto rýchlosti bol úplne neovládateľný.Pri jednom zo skúšobných letov dosiahol údajne rýchlosť 1004 km/h (pilot Dittmar). Práve vďaka Dittmarovej zručnosti sa let neskončil tragicky (preťaženie až 9g). Me 163 A bol však iba skúšobnou verziou, na ktorej sa skúšal pohon, ale aj výzbroj (raketyR4M)
Me 163 B bol bojovou verziou Me 163. Zmeny boli viditeľné na prvý pohľad,lebo sa zväčšil objem trupu (tzv.lietajúce vajce). Zaujímavé bolo aj to,že nebol použitý bežný podvozok, ale čosi ako lyža a na zadnej časti lietadla bolo inštalované malé koliesko. Toto lietadlo malo ochrániť "ríšu" pred náletmi spojeneckých bombardérov, čo sa mu spočiatku celkom darilo. Veľmi zaujímavá bola aj koncepcia lietadla, keďže išlo o stroj bez vodorovných chvostových plôch.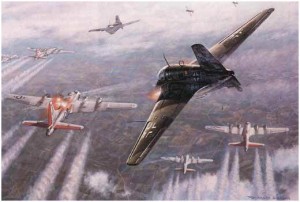 Pohonnou jednotkou bol motor typu Walther HWK 509A spaľujúci veľmi nebezpečnú kvapalinu nazývanú C-Stoff (30%hydrazinu, 57% metanolu a 13% vody) a T-Stoff (peroxid vodíka). Motor dosahoval výkon 1700 kp (16,67 kN). Tento typ pohonu prinášal aj významné nevýhody, najmä to, že pri tvrdom pristátí (na spomínanej lyži), mali kvapaliny tendenciu premiešať sa a explodovať. Dočítať sa dá aj o historke, kedy sa po nie najmäkšom pristáti pohonné látky vyliali na pilota a doslova ho rozpustili! Z týchto dôvodov bolo treba na pilotovanie týchto strojov určitú dávku odvahy, keďže pilota ohrozovalo nielen palivo, ale aj lietanie ako také. Napríklad pilotov cvičili údajne iba niekoľko hodín (to sa týka aj Me 262). Podľa výpovede pilota Waltera Hagenaha im proste povedali, že to pomalšie zrýchľuje a spomaľuje a že to s výkonom netreba prehnať, lebo môže dôjsť k požiaru motora. Vidno teda, že prechod z vrtule na "turbínu" nebol jednoduchý. Dolet lietadla bol však úplne nedostačujúci, a to len 80km.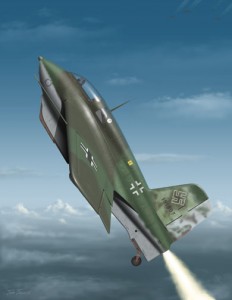 Výzbroj tvorili v prípade bojovej verzie dva 30mm kanóny Reichmetal-Borsig Mk108. Niektoré zdroje uvádzajú aj 20mm kanóny. Kanóny boli umiestnené v koreňoch krídel. V prípade kanónov ráže 30mm bolo na jednu hlaveň 60 nábojov. Každopádne 30mm verzia bola účinnejšia, lebo na zničenie 4-motorvého bombardéra stačili 3 správne zásahy.
Bojové nasadenie: od roku 1944 nasadené v rôznych jednotkách, napríklad EK16 Nasadenie však sťažoval dolet, len 80km Naproti tomu veľkou výhodou bola rýchlosť, až 960 km.
Ťažko možno povedať, či bol Me 163 Komet úspech, alebo naopak. Bol určitým prínosom z hľadiska týka technického pokroku. Táto konštrukcia ukázala, že prúdové a raketové motory už nie sú iba hudbou budúcnosti a je možné ju úspešne realizovať. Nad jeho vojenským prínosom by sme mohli meditovať dlho, každopádne, určité úspechy tu sú, aj keď na jeho pilotovanie bolo treba určitú guráž (možno aj samovražedné sklony).
Stručná charakteristika
Me-163B-1
Rozmery
Rozpätie
9,30 m
Dížka
5,85 m
Nosná plocha
17,52 m2
Hmotnosť
prázdna
1.980 kg
vzletová
4.315 kg
Výkony
Max. rýchlosť
950 km/h
Dolet
80-100 km
Dostup
15.200 m
Stúpavosť v 0 m
81,5 m/s
Komentáře
Přehled komentářů
---
---